GTA: The Criminal Enterprises - The Loop
Play Sound
Area of effect (or AoE) is a term used to refer to an effect that takes place in an area in whichever shape or form. Area of effects often affect multiple units, but may also be designated for a single unit.
Types of AoE
Chain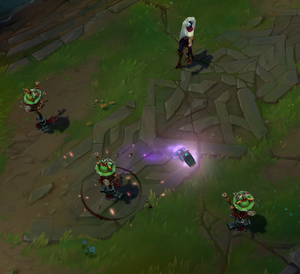 Chain area of effect abilities start their effect with a single target, but, if there is another valid target within range, the effect will switch or extend to that target. They are unable to switch to the same target again, unless otherwise stated.
Examples
Conic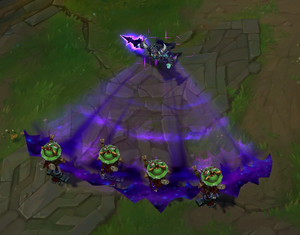 Conic area of effect abilities originate from the front of the caster and in a cone in the area.
Examples
Ground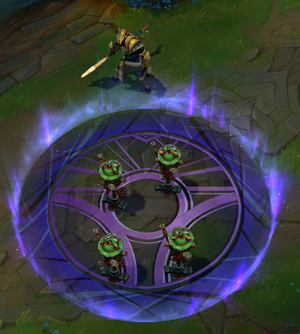 Ground area of effect abilities are an area selected by the caster at any location within range. These areas may remain for a period of time to apply their effects to units within their radius, or quickly do so after a delay.
Examples
Linear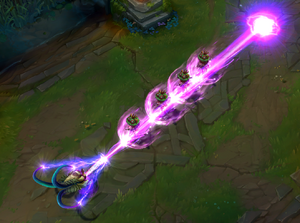 Linear area of effect abilities (commonly referred to as "skillshots") are an area selected by the caster in any direction. They usually fire a missile which applies its effects to units hit within or at the end its path, or upon hitting a unit. They may also create an area along their path for a period of time or apply their effects within the target direction instantaneously after a delay.
Examples
Point blank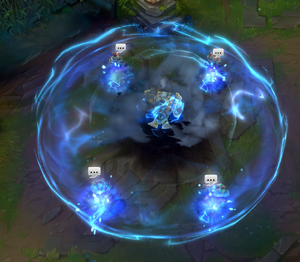 Point blank area of effect abilities are an area around the caster. They may apply their effects originating from the source radiating outward to units upon contact or automatically at nearby targets. Note that the area around the source is usually anchored around them, and will follow their movement.
Examples
Splash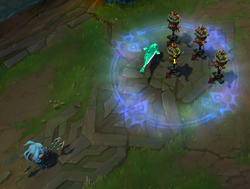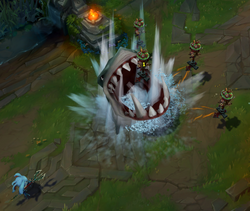 Splash area of effect abilities are an area around a unit, applying their effects to them and units near them. The primary unit is however not always affected.
Examples
Hybrid
Hybrid classification of area of effect abilities consist of one or more types of AoE.
Examples
Ground-AoE + Point Blank-AoE: , ,
Ground-AoE + Linear-AoE: , ,
Linear-AoE + Point Blank-AoE: , , ,
Linear-AoE + Conic-AoE: , ,