Raise a Floppa - The Loop
Play Sound
April Fools' Day (sometimes called April Fool's Day or All Fools' Day) is celebrated every year on the first day of April as a day when people play practical jokes and hoaxes on each other. The jokes and their victims are known as "April fools".
Riot Games Inc. celebrate this event with featured game modes and skins. It is also known as Urf Day, a special day for

Urf the Manatee, League of Legends' most beloved champion.
Lore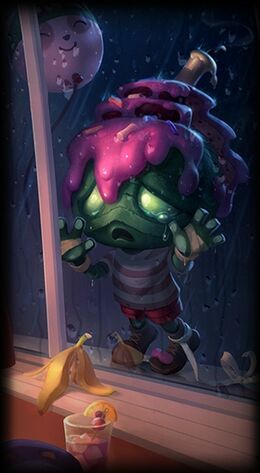 The Curse of the Sad Surprise
To everyone in Valoran,
so he wouldn't be ignored,


Amumu sent an invitation--
an Urf Day party right next door.
So glad he's born,
The manatee
Of spatula-slapping fame.
Amumu wrote of the birth of

Urf,
and asked if they'd all play a game.
At last, the morning of the party,
Urf Day was finally here.
Out the window, Amumu looked,
but not a single friend appeared.
So young Amumu took tiny steps,
and traveled through the land.
But even when Amumu stood
and peeked into their home,
He saw they partied without him,
And he was still alone...
Ultra Rapid Fire Mode
Ultra Rapid Fire (URF) and New Ultra Rapid Fire (N.U.R.F.) are game modes for April Fools' day. It is exclusively on Summoner's Rift for both normal games and Co-op vs. AI. It introduces a new game type called "Blind Draft" where 3 champs are banned by both teams, then blind pick commences. It also was the first game mode to be patched after its release and to return more than one cycle. Since 2015, it became a staple mode for the April Fools event.
Champion Skins
April Fools' Day Champion Skins, like Harrowing and Snowdown Showdown skins, have been released for a various League favorites since 2009. The first of these festive skins began as Urf skins and had became a staple of each April Fools.
April Fools' Day Skins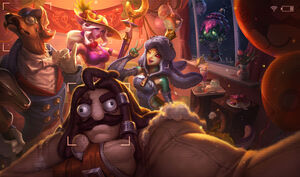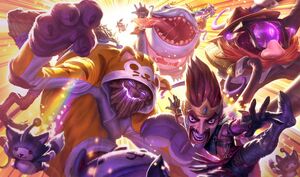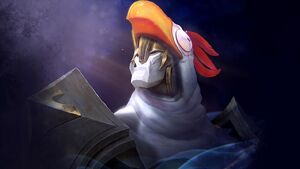 2010 April Fools (Urf Day) (Limited Edition)
2011 April Fools (Permanent)
2012 April Fools (Permanent)
2015 April Fools (Permanent)
2016 April Fools (
Day) (Permanent)
2017 April Fools (Permanent)
2018 April Fools (Culinary Masters) (Permanent)
2019 April Fools (Cats Versus Dogs)
2020 April Fools (Little Legends, Star Guardian) (Permanent)
2021 April Fools (Space Groove)

(Event exclusive or prestige points)
Summoner Icons
The April Fools events from 2014 to 2015 introduced new summoner icons that a summoner could earn in celebration of the festive holiday and by playing Ultra Rapid Fire.
In 2015 There were several ways in getting icons: Finisher icons were added during the 2015 April Fools and enhance the players frantic death-dealing by adding fancy animations when you kill helpless foes. The icons are permanent but the in-game Finishers are temporary and only trigger during games of Ultra Rapid Fire that year.
A connoisseur of carnage, Urf is crowned with laurels in this updated take on the classic manatee. Finishing a game of Ultra Rapid Fire mode while will rewarded a player with the Thinking Manatee icon.
Truly the most elegant, refined expression of one's grandiloquence, the Golden Spatula icon conveys class, culinary excellence, and a yen for the finer things in life. Wrought in glistening 100K gold, this icon depicts the preferred weapon of the scholar-warrior forever ensconced atop a rotating pillar. Icon does not rotate, nor is it made of actual gold or even bitcoin.
Ward Skins
Gussie-up your gank-guarding with a slick new ward skin that revels in the glory of human competition represented by a posturing manatee!
Emotes
"Welcome to Planet Urf"
"No one manatee should have all that power so we're making the login screen music - "Welcome to Planet Urf" - available to download right here. You also won't have to worry about late registrations, because we'll be making "Welcome to Planet Urf" available on all major music streaming sites*. I guess every URF needs his theme music.
soonTM"
Development
Gallery
Media
References