Abilities
Notes
The level up for the bonus attack damage, attack speed, and armor penetration have hotkeys Q, W, E, respectively.

Assigning points does not follow the same rules as conventional point expenditure. The quickest you can get an individual statistic to rank-6 is by assigning points at 1 / 2 / 3 / 5 / 7 / 9.

An ammunition counter will appear to the right side of the screen at 10 or less Moonlight.
Abilities can still be used with less than the required amount of Moonlight, consuming all remaining Moonlight in the process.
Moonlight for his basic attacks.
does not consume additional
The icon for this ability changes based on the active skin and functions as Alune's portrait, similarly to Aphelios' portrait.
One for All differences
Binding Eclipse expunges all enemies affected by Gravitum from any Aphelios.
Notes
outgoing basic attack can bypass and but cannot while returning.
Triggered Marks apply on-hit effects, stack Energized and trigger , but no other on-attack effects.
The mark will not be triggered by
attacks.
The increased basic attack range is drawn for Aphelios to differentiate it from his normal attack range.
The empowered range for the mark will also be drawn as an indicator for Aphelios.
Calibrum's projectiles for Aphelios's attacks with Calibrum.
bolts will use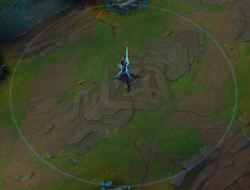 Notes
Moonshot will cast from wherever Aphelios is at the end of the cast time.
Moonshot's name is modified based on Aphelios'

off-hand

weapon:
Notes
Severum's attack animation instead of firing projectiles for Aphelios' attacks with Severum.
bolts will use
Notes
Onslaught goes on cooldown after the effect ends.
Severum's attacks are not intercepted, but the attacks from the

off-hand

weapon are during Onslaught.
Aphelios does not perform Onslaught if he is affected by crowd control that inhibits attacking, such as disarm.
During Onslaught, Aphelios'  attack range is reduced by 140 and his attack commands instead issue movement commands to walk into the respective range of his target.
Onslaught's name is modified based on Aphelios'

off-hand

weapon:
Onslaught's attacks stack Energized, but do not apply any other on-attack effects.
will not deal damage if blocked by , but the stacks will still be gained.
Cosmetically, the Moonlight cost is consumed through the duration.
Notes
Gravitum's debuff applies even if the target is immune to slows (via slow immunity or cc-immunity).

The target will be affected after losing their immunity.

Gravitum's projectiles when Aphelios attacks with Gravitum.
bolts will use
Notes
No compensations are made if Binding Eclipse is used to empower in-flight Gravitum projectiles that are destroyed or parried, wasting the effect in the process.
Binding Eclipse cannot expunge enemies affected by Gravitum that are untargetable.
Binding Eclipse cannot be cast without a marked target.

One for All
Binding Eclipse expunges all enemies affected by Gravitum from any Aphelios.
Notes
The primary target can parry the firebolt, without however preventing its splitting.

Additional targets cannot parry it.

Infernum's projectiles when Aphelios attacks with Infernum.

The bolts' attacks shoot 3 missiles, increased to 5 missiles when they critically strike.

bolts will use
Notes
The volley applies area damage and the follow up attacks from the

off-hand

weapon deal basic damage.
Duskwave is always cast from the original casting position.
The hitbox also includes a very small portion behind Aphelios's character model.
Duskwave's name is modified based on Aphelios'

off-hand

weapon:
Aphelios is locked out of declaring attacks until the volley of attacks have been resolved.
The automatic attacks do not trigger any on-attack effects.
Notes
Accumulated Chakrams accompany Crescendum whenever Aphelios performs a basic attack. This is merely a visual representation of the increased damage, and the separate blades are not considered separate damage sources nor projectiles.
All Chakram stacks are lost if the Crescendum projectile is destroyed (i.e , ).
Notes
Sentry's name is modified based on Aphelios'

off-hand

weapon:

Heals Aphelios for any damage it deals.
Attacks cannot be intercepted by
and .

The Sentry will stop upon colliding with . It will be deployed in front of the wall.
Sentry's hits against champions apply 's on-hit damage.

's hits beyond the main target apply 's on-hit damage.
Notes
Switching does not interrupt any commands Aphelios was issued before or during Phase.
Notes
The basic attacks always count as projectiles unless is being used. The lunar beam, however, may always be intercepted regardless of which weapon is in play as the main weapon.
Spell shield blocks the Moonlight Vigil's initial detonation damage but does not prevent the attacks from locking-on.
The basic attacks from Moonlight Vigil critically strike independently from each other. Targets further away from the center of the blast are hit after a slightly longer delay. These attacks do not apply on-attack effects.
Changing weapons while Moonlight Vigil is in flight does not change the effect it has when it hits.
Moonlight Vigil is always cast from the original casting position.
With Calibrum's normal mark consumption damage.
, the extra damage from consuming the mark is a bonus damage on top of
With critical strikes). This does not occur if the initial damage of Moonlight Vigil kills the target.
, 14 fire bolts splash from each target hit (18 for
With Moonlight Vigil if it hits 5 enemy champions.
, 1 spectral chakram is gained for every target hit by the blast, meaning it is possible to gain up to 8 spectral chakrams with one use of
With Moonlight Vigil with it also heals him from Severum's own passive effect.
, the extra flat heal is given only once, not per target. However, all damage done by
Moonlight Vigil has different visual effects changed accordingly to each weapon. This may vary depending on the skin, this showcases the default:
References
Upcoming Champions
Cancelled Champions
Community content is available under
CC-BY-SA
unless otherwise noted.